Redemption for 2020 and other gifts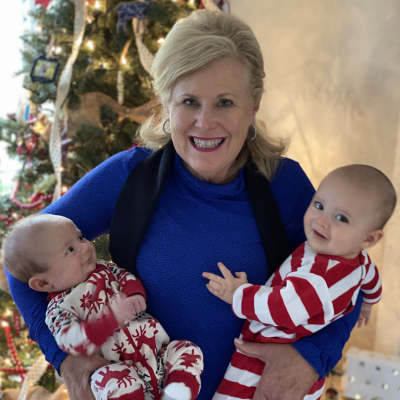 Christmas, redemption, and other gifts
The Kerrville Daily Times Article December 2020
As I stood by the Christmas tree and gazed into the eyes of my precious new grandsons, I was reminded of God's redemption for 2020.
In July, we welcomed Griffin David Maxwell, and in September, Tripp Robert Williams. These new additions were some of the bright spots of this pandemic year and remind me of God's goodness in hard times.
Redemption means to compensate for the bad aspects of something, to free us from what distresses or harms us.
I've seen God redeem many things in my life. He has brought beauty out of the loss of loved ones, financial problems, remodeling situations, setbacks in life and strained relationships.
In the book of Luke, John the Baptist's father, Zachariah, prophesied about the birth of Jesus and that he was sent to redeem things. Luke also gives us a great description of all the other gifts God gives us in the gift of Jesus.
Luke 1:67-74 (TPT) states:
"Praise be to the exalted Lord God of Israel,
for he has seen us through eyes of grace,
and he comes as our Hero-God to set us free!
He appears to us as a mighty Savior,
a trumpet of redemption from the house of David, his servant,
Just as he promised long ago
by the words of his holy prophets.
They prophesied he would come one day and save us
from every one of our enemies
and from the power of those who hate us.
Now he has shown us the mercy promised to our ancestors,
for he has remembered his holy covenant.
He has rescued us from the power of our enemies!
This fulfills the sacred oath he made with our father Abraham.
Now we can boldly worship God with holy lives,
living in purity as priests in his presence every day!
In this passage, we see in Jesus, we have the promise of redemption, eternal life or salvation, and freedom from our enemies. He also provides mercy, committed relationship with us, and freedom from fear.
Salvation, inviting Jesus into our heart and asking him to forgive us of our sins, is the beginning of the greatest relationship we will ever have. We have a constant companion to help us. I asked Christ into my heart when I was ten years old. Since then, he has been my constant friend and helper.
In this passage, salvation from our enemies means God helps us overcome challenges. It means provision is available in anything that comes against us; people, illness, problems at work, difficult people, or financial problems, can all be enemies. As Christians, we have help when we need it and a better way to handle adversity. Your prayer for help can be as simple as, "Jesus, fix it."
Another gift Jesus provides is mercy. Mercy is getting something we don't deserve and blessings. I've had my share of mistakes and adversity, but I have also received mercy and so many blessings, like my two new grandsons.
Luke 1:74 (NIV) says Jesus came to rescue us from the hand of our enemies,
and to enable us to serve him without fear. 2020 has given us many opportunities to walk in fear, but we don't have to. Fear and peace are always a choice, and you and I get to choose which one we will walk with.
I'm so grateful for these two little boys that arrived in the middle of a dark time in our history and look forward with expectancy of how they will impact our world. Jesus arrived at a dark time in our world but he brought hope, redemption, salvation, freedom from enemies and fear. Let's walk into 2021 holding close to our hearts, all that was given to us in the gift of Jesus and look for his redemption and all the other gifts he provides.
Kathleen Maxwell-Rambie is a Hill Country writer, speaker and podcaster. She is passionate about helping people bring God into their everyday life. She can be reached at [email protected], or you can listen to her podcast on kathleenmaxwellrambie.podbean.com and on her website, www.kathleenmaxwellrambie.com.