Peace, sirens, and gunshots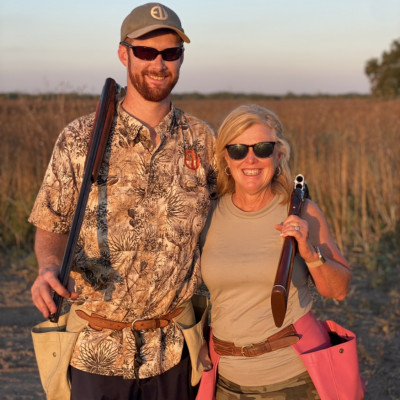 Peace, gunshots and sirens
Kathleen Maxwell-Rambie
October 2021 copyright
The sun was shining brightly as we were standing on the dusty road with the temperature in the mid 90's. Dust was blowing with the gentle breeze and I was enjoying dove hunting with my husband. September and October is dove season for central Texas and my husband and I spend much of our time in Uvalde, Tx. Stephen has a dove hunting business he has operated in the area for over 25 years and on Sunday evenings, we usually hunt together.
One could hear the gun shots of some of our hunters and then there was another familiar sound, sirens in the distance. Unfortunately, with the crisis on the Texas and Mexico border, sirens are a frequent sound in Uvalde, Tx. The other day, I witnessed two high speed chases and then saw a big arrest of immigrants. Somehow, the gun shots and sirens all at the same time was not the most peaceful sound on our normally relaxing Sunday afternoon.
I began to pray for our local law enforcement, the border patrol and for our nation. I am grateful for these men and women that have stepped up to protect our community and some of them are our friends.
The dove were thick and as I watched the huge flock fly over us, thinking how grateful I was for the abundance of the flock. I also thought of how abundant the peace God provides for us even in all the turmoil that was in our country. There are many things in our nation and world that can rob us of our peace and yet, Jesus has provided peace even when there is chaos.
In John 16:33, Jesus says, "I have told you these things, so that in me you may have peace. In this world you will have trouble. But take heart! I have overcome the world."
Jesus always provides what we need to overcome adversity and learning about the gift of peace has been one of my greatest treasures in life. In times of trouble, when anxiety tries to rob me, or life seems uncertain, peace is such a great weapon. We just have to discipline ourselves and practice it.
John 14:27 states, "Peace I leave with you; my peace I give you. I do not give to you as the world gives. Do not let your hearts be troubled and do not be afraid."
It is not in the heart of God for us to be stressed out, uptight, or anxious. When we walk with Him and realize He is with us in any situation we face, we do not have to live life afraid.
Learning to walk in peace in a troubled world is just like learning to walk in the natural. It takes practice and when we stumble and fall, we need to get back up and try it again.
There is much chaos in our world today and when trouble sounds near, just like the gun shots and sirens, it is important to remember we have an abundance of peace available so we can walk in peace in our crazy world.
We had a great hunt that afternoon even though it sounded pretty crazy at times. I challenge you to keep these scriptures handy to remind yourself to always walk in peace, no matter how unsettling the world around us sounds.