Scars and healing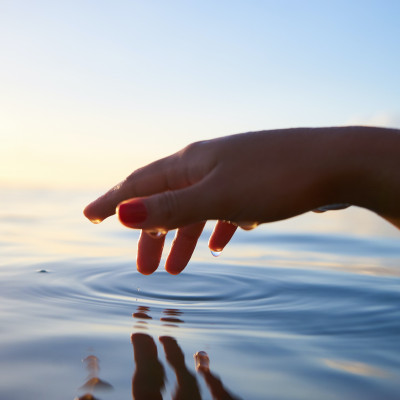 In May 2021, I had surgery on my right middle finger to remove a cyst. It was to be a simple procedure; however, when the doctor opened my finger, there was extensive damage to my joint, two chipped bones and a frayed tendon. I was grateful the doctor repaired my finger, but the healing process has taken longer than I expected. I still have to wear a cast, as the tendon is weak. I was told it would take six months for it to be fully healed,
All of this has cramped my style as a writer, my workouts and ability to carry things. In addition, there is still swelling and a scar.
A scar is a mark left on the skin or within body tissue where a wound, burn, or sore has not healed completely and fibrous connective tissue has developed, according to the American Academy of Dermatology. It also means a lasting effect of grief, fear or other emotion left on a person's character by an unpleasant experience.
Scars can be reminders of things that have happened in our lives. When traumatic and painful events impact our lives, they can leave physical or emotional scars. I was thinking about challenges I have had in my life that have left reminders or scars on my heart and body. As I thought of the adversity that I had overcome by God's grace, I had to smile. God has always been faithful when I've depended on him.
Losing my late husband and parents, major disappointments and physical setbacks are just some of the obstacles I have been challenged to leap over. I have physical scars from different surgeries I've had throughout my life, and yet, there are some surgeries that didn't leave scars at all.
In each of the above situations, I've run to God for healing in my heart or body. Many people look to God for physical healing, but I know from personal experience, he also heals broken hearts.
Isaiah 61:1 reads, "The Spirit of the Sovereign Lord is on me, because the Lord has anointed me to proclaim good news to the poor. He has sent me to bind up the brokenhearted."
Part of Jesus's job description was to heal the broken hearted. Years ago, I didn't realize God cared about the things that hurt my heart and the benefits of bringing our painful experiences to him for healing.
Psalms 147:3 (NIV) is a promise for us and reads, "He heals the brokenhearted and binds up their wounds."
I discovered in the painful things of life, emotional and physical, I have an incredible opportunity to learn more about the heart of God. I've seen his love, kindness and healing for me. Some of the deepest pain I've experienced has been healed, and when I see the scars or reminders of these experiences, I now see God's faithfulness and how I've changed for the better.
Physical and emotional healing might take time, but when we give him our pain and continue to ask for healing, he is faithful. And the experience of walking with him strengthens and reshapes us.
I challenge you to examine your life, and, if there are scars that are painful, take them to God. Many people just endure the pain of traumatic events instead of bringing them to the feet of Jesus.
Our scars do not have to be painful when we seek God for healing. As Christians, we are not exempt from life's difficulties; we just have a better way of dealing with them and a savior that is ready and willing to help. There is a richness gained in the healing journey with Jesus, and that richness becomes a story we can encourage others with. It also brings character development, when we partner with God in the process.
What pain do you need to bring to God? The healing may take time, but be patient and don't waste the pain.
He is ready and waiting for you to run to him. He loves his relationship with us, and Jesus is the healer.
Kathleen Maxwell-Rambie is a Hill Country author, writer, speaker and podcaster. She is passionate about helping people bring God into their everyday life. She can be reached at [email protected]. To purchase her book, "Thriving Through Seasons of Grief," or listen to her podcast, visit her website, www.kathleenmaxwellrambie.com.