Living Outloud: What is your life saying to others?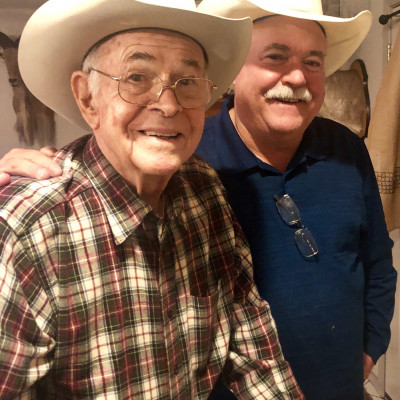 Living out loud: What is your life saying to others?

The last 3 1/2 years, I have had the privilege of overseeing care for my father-in-law, John Rambie. He was a great man and, unfortunately, he recently passed away. Walking with people in the last days of their journey on earth is challenging at times, yet so rewarding.
I observed several things in Johnny's life that impressed me as we spent time together. Everyone is advertising something, whether we realize it or not, and the way he lived his life showed what was important to him.
Johnny wasn't afraid to express his love for people. I frequently saw him holding his wife's hand when they sat on their sofa to watch television, and they were always snuggled together. It was sweet to observe.
He also loved his three children: David, Stephen (my husband) and Mary. When I took him to doctor's appointments, we would frequently FaceTime while waiting, and his face would light up when he talked to them. He was not afraid to say "I love you," and I will always treasure the times he told me he loved me, especially the last few days of his life.
God wasn't afraid to express His love for us, and that is evident in the many scriptures that tell us of His love. Jeremiah 31:3 (NIV) is one of my favorites and states, "I have loved you with an everlasting love; I have drawn you with unfailing kindness."
Johnny told me the story about how he was born in Center Point, Texas, and weighed 3 pounds at birth. His mom kept him warm in a shoe box by the oven. He had strength as a baby, and that strength continued throughout his life, even when he endured the physical hardship of his Parkinson's disease. He remained strong until the moment I saw him take his last breath.
God was his strength, and Johnny knew and depended on Jesus. His Bible was always on the stand by his couch, and he loved singing gospel songs. We sang "Jesus Loves Me" and "Amazing Grace" many times to bring comfort and peace to his heart. He would sing with us and, when he couldn't sing the words anymore, he would mouth the words, or just tap his foot under the blanket.
What impressed me the most about him was his gratitude. Gratitude opens the door to joy, no matter what the circumstances. He was always grateful, and he expressed it. Every time we went to see him, took him to the doctor, brought supplies to him, he always us. A heart of gratitude governed his life.
"Overcoming any problem begins with a grateful heart," is one of my favorite sayings, and Johnny's life showed that. He was always grateful and thankful, no matter what. He never let his hardships define him. He understood the value of expressing gratitude. Even in his physical difficulty, he found something to be grateful for. Gratitude opens the door to joy and overcoming adversity.
Luke 6:45 (NIV) says, "A good man brings good things out of the good stored up in his heart, and an evil man brings evil things out of the evil stored up in his heart. For the mouth speaks what the heart is full of."
Johnny's heart was full of gratitude.
Expressing love, drawing strength from God and always walking in gratitude are just some of the lessons we learned from this man. My prayer for our family is that grief will have a good work in our lives and we would grow in the things his life taught us.
I am grateful for all the lessons that Johnny taught me and that grief has taught me. If you have lost someone you love, I ask God to heal your heart, too. Perhaps my newly released book, "Thriving Through Seasons of Grief," will help in your healing journey.
Psalms 147:3 (NIV) is a promise I depend on and says, "He heals the brokenhearted and binds up their wounds." God is faithful to heal broken hearts when we partner with him.
Although Johnny was a man of few words, the life he lived said volumes. The question for you and me is, what is the life we live saying to others?
Kathleen is a Hill Country author, writer, speaker and podcaster. She is passionate about helping people bring God into their everyday life. She can be reached at [email protected]. To purchase her book or listen to her podcast, visit her website, www.kathleenmaxwellrambie.com