Encouragement, hope, and help in times of tragedy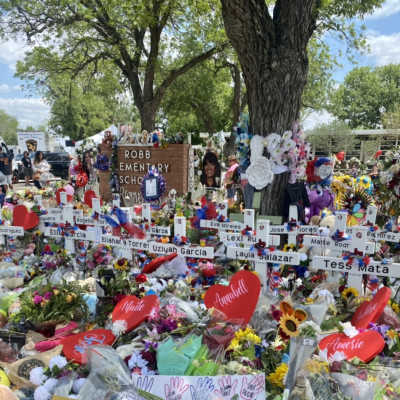 Encouragement, hope, and help in times of tragedy
Kathleen Maxwell-Rambie
June 2022
The May 24 shooting event that occurred in Uvalde has rocked our nation and the world around us. On many levels, I am broken-hearted at the loss that has been caused in this small town in South Texas. It has been my privilege to help and minister to families who lost children, staff who witnessed things they should not have, law enforcement and to help the community begin to heal.
We have a home outside of Uvalde, and as I drive to town, I have to pass by two cemeteries. Seeing multiple machines digging gravesites for the victims has been very sobering. News outlets from around the country and the world are everywhere. We are all grateful to the law enforcement that came out to aid our already overworked Department of Public Safety, Border Patrol and police. The outpouring of love has been heartwarming in the devastation.
A significant part of my ministry as a podcaster, columnist and author involves overcoming grief and dealing with crisis, disappointment and loss. Here are some things that will be helpful in the coming days for us all.
If you have not suffered a significant loss, you might be wondering how you can help. I am forever grateful for those who helped in various ways when I was walking through tragedy in my own life.
• Listen. People experiencing heartbreak don't need answers as much as they need presence and a listening ear. Be with them in their pain and let them express their feelings. People need to know we care and value them. We give them honor by sitting with them in their pain.
• Offer specific help. Many people say, "Let me know what I can do to help." However, those people who offered help in specific ways were the most helpful to me. Offer to mow their yard, bring dinner or have a meal sent, have their home cleaned or organized, give them a gift certificate for pedicure, massage, etc.
• Anniversaries of loss, birthdays, trigger grief. Put a reminder in your phone to call or send a card on these days in the future.
• Pray for them and their families. Remember, grief is a process, and they need ongoing prayers.
Time doesn't heal, but Jesus heals broken hearts. Isaiah 61:1-3 tells us Jesus came to bind up the brokenhearted, comfort those who mourn, give them beauty for ashes.
Psalms 147:3 reads, "He heals the brokenhearted and binds up their wounds."
Pray that they will keep moving through the process of grief.
The Bible is full of stories of how God used ordinary people like me and you. He needs us to extend hope to diffuse the anxiety and fear of the future. He needs us to be his arms of love and compassion when life is overwhelming. God blesses unity and tells us in Psalms 133:1, "Behold, how good and how pleasant it is for brethren to dwell together in unity." He wants us to bring unity to hurting families and communities.
2 Corinthians 3:2-3 reads, "You yourselves are our letter, written on our hearts, known and read by everyone. You show that you are a letter from Christ, the result of our ministry, written not with ink but with the spirit of the living God, not on tablets of stone but on tablets of human hearts."
God wants to use you and me to be his living love letter of compassion, peace, unity and hope in these troubled days.
Kathleen Maxwell-Rambie is a native of the Hill Country, a podcaster, author, writer and speaker. Contact her at [email protected]. You can also purchase her book, "Thriving Through Seasons of Grief," or listen to her podcast on her website, www.kathleenmaxwellrambie.com.